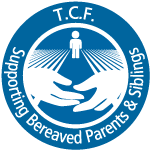 The Compassionate Friends Victoria provides peer support to parents and siblings following the death of a child, at any age, from any cause.
The Compassionate Friends provides individual peer to peer support face to face, by telephone and email. For bereaved families whose loved one has died by suicide, The Compassionate Friends offers a Peer to Peer Support Outreach service. All peer support workers are bereaved parents or siblings.
The Compassionate Friends also runs structured support groups, which offer a safe environment for people to express themselves in the company of others who have experienced grief. The Compassionate Friends also offers social support groups where bereaved parents can meet over lunch in a less formal setting. Support group facilitators are bereaved parents. Approximately 22 support groups run in metropolitan and rural areas across Victoria.
Other than the CEO, all of The Compassionate Friends's paid employees, Board members and more than 165 volunteers have lived experience as a bereaved parent or sibling. All support and community education services are provided by bereaved parents or siblings and their lived experience informs all aspects of the organisation's framework, culture and work. 
TCF services
The Compassionate Friends offers a range of specialised knowledge, skills and experience through services which include:
 24/7 Peer to Peer Support Grief Helpline

1800 641 091

Information about parental bereavement and mental wellbeing, health services and referral
Peer Support Groups in Metro and Regional Victoria
Bereavement and Grief Seminars
Friends and Family Bereavement Education Service
Community Education
Peer to Peer Social Support
Bereaved through Suicide Outreach Peer to Peer Support
The Compassionate Friends Victoria Inc
173 Canterbury Rd, Canterbury
Ph (03) 9888 4944
Grief Support Helpline 1800 641 091
This email address is being protected from spambots. You need JavaScript enabled to view it.
www.compassionatefriendsvictoria.org.au
Supporting the wellbeing and mental health of bereaved parents & siblings